Patchogue River

http://www.islandblockworks.com
In the wake of Hurricane Sandy many homes that were flooded are in need of remediation. Not to mention yet, mold, wood rot, metal corrosion and a host of other considerations, more about those later, these homes left at their current elevations will incur huge and prohibitive flood insurance costs if not lifted above government established flood levels, which will remediate many of those aforementioned considerations, more about those later...

This is what we are doing:
While our existing foundation had sound spread footings, the block-work was not suitable for building on so we removed it down to the first course, which is imbedded in the footing and as such is firmly anchored, to which we drilled in rebar vertically, laid a horizontal bar against them, pinched it with forms, and poured a bond-beam to tighten everything up.  This way we didn't need to disturb the ground as we're in ground water right at the footings and we now have a good, sound, clean and tight substrate to grab a hold of and build on: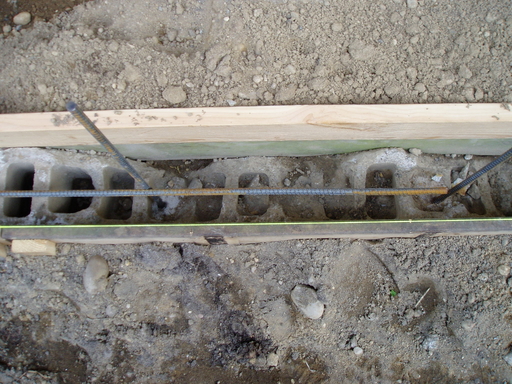 Now all we have to do is lay up the blocks.  We reinforced the walls with rebar every two feet and grouted those cells solid, built piers no farther than ten feet apart and used truss reinforcing wire every other course.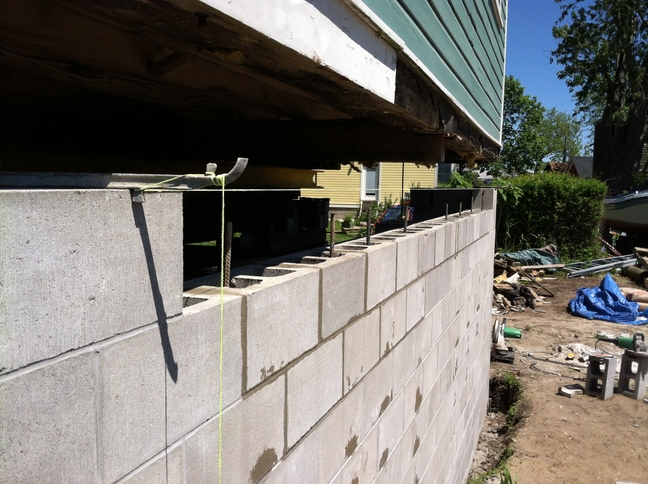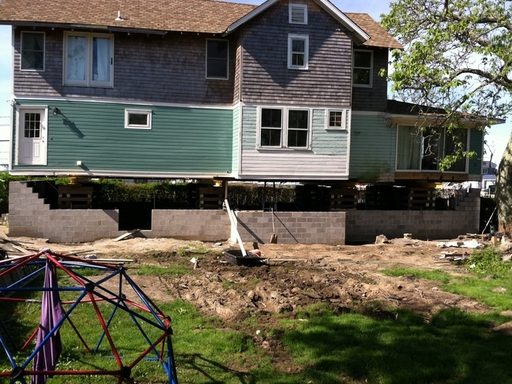 So, then, this house is down on its new foundation,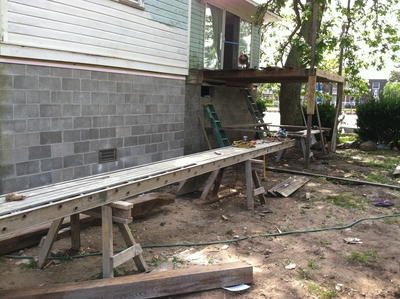 with floodvents from Smart Vent, made in U.S.A.,
like us.
A lot of work remains, forty yards of fill to raise the floor about a foot.
We've replaced the original girder with a new triple Microlam girder
supported on temporary posts.

And so, it's on to Sayville

More later, this site is under construction.
Email us at blocks@islandblockworks.com if you have any questions or need some advice on this process.
http://www.islandblockworks.com